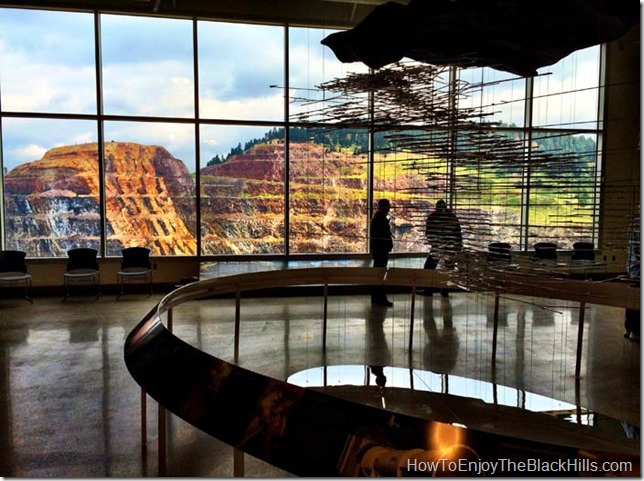 The visitor center at the old Homestake open cut is very interesting.  It is certainly worth a visit if you find yourself in the northern Black Hills.  It is now officially known as the Sanford Lab Homestake Visitor Center and it is located at the end of the open cut mine at 160 W Main in Lead South Dakota.
There are loads of photos and videos sharing the history of the mine.  Both, the gold mining history and the scientific experimentation history and on going studying.  And, a large viewing area of the open cut.  Plus, there is an old mine elevator you can climb in.
The part I enjoyed the most was the 3 dimensional model of the mine.  You can see it in the photo above.  Hanging from the ceiling is a model that depicts the 370 miles of tunnels that were dug during the mines 126 years of activity.  It is simply amazing to think of all those tunnels, some over 1 mile deep into the earth's surface.
There are tours available.  We didn't take a tour, but hope to next time we are in the area.  You can call the visitors center to inquire about tours at 605-584-3110 or visit their Facebook page.
In the parking lot is a historic Locomotive with a compressed air engine. Plus there are several trailheads for the Mickelson Trail nearby.