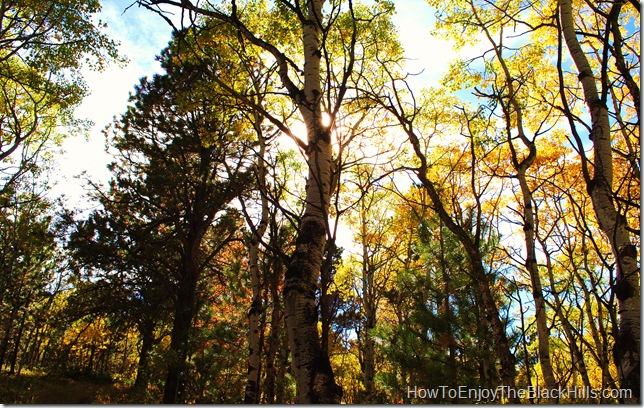 The Black Hills National Forest is located in Western South Dakota and Northeastern Wyoming. Recreation opportunities abound. Over one million acres of public land.  The forest is 125 miles long by about 65 miles wide and loaded with lakes, campgrounds, hiking and scenic drives.
This "island in the prairie" has something for everyone.  You can visit Devils Tower, hike Harney peak or explore Spearfish Canyon.  If you want luxury hotels or primitive camping, all can be found in the Black Hills of South Dakota.
Picnic Areas
26 can be found throughout the forest
Northern Black Hills – Dalton Lake Picnic Area, Dead Ox Picnic Area, Hanna Campground, Hellsgate Gulch Picnic Area, Long Valley Picnic Area, Mount Roosevelt Picnic Area, Steamboat Rock Picnic Area and Strawberry Picnic Area.
Central Hills – Custer Trail Campground, Dutchman Campground, Lake Shore Picnic Area, Jenny Gulch Picnic Area, Pactola Point Picnic Area, Veterans Point Picnic Area, Dakota Point Picnic Area, Sheridan North Picnic Area, Sheridan South Picnic Area and Spring Creek Picnic Area
Southern Hills – Bismarck Lake Picnic Area, Elkhorn Picnic Area, Flynn Creek Picnic Area, Hazelrodt Picnic Area, Iron Mountain Picnic Area, J.H.Keith Cascade Falls Picnic Area, J.H. Keith Cascade Springs Picnic Area and Lakota Lake Picnic Area.
Hiking
Options are almost endless
The Black Hills of South Dakota is home to two trails over 100 miles long.  The 111-mile Centennial Trail begins at Bear Butte and ends in Wind Cave National Park.  And, the Mickelson Trail starts in Deadwood and ends 109 miles later in Edgemont.

Northern Black Hills – Crow Peak, Eagle Cliff, Little Spearfish Trail, Mount Roosevelt, Old Baldy, Rimrock trail, Little Spearfish Falls, Roughlock Trail, Bear Butte, Iron Creek, 76 Trail, Lookout Mountain, 11th Hour Gulch, Community Caves
Northwestern Black Hills – Carson Draw Trail System, Cliff Swallow Trail, Cook Lake Trail, Dugout Gulch Botanical Trail, Sundance Trail System, Devils Tower
Central Black Hills – Black Elk Wilderness Trail System, Centennial Trail, Deerfield Lake Loop Trail, Deerfield Trail, Flume Trail, Horsetheif Lake Trail, Osprey Trail, Veterans Point Trail
Sothern Black Hills – Hell Canyon Trail, Sunday Gulch Trail, Harney Peak Trail, Little Devils Tower
Visit the BHNF website for more hiking information.
Campgrounds
30 National Forest Campgrounds and numerous commercial campgrounds
Northern Black Hills – Boxelder Forks Campground, Dalton Lake Campground, Hanna Campground, Road and Gun Campground, Roubaix Lake Campground and Timon Campground.
Northwestern Black Hills – Bearlodge Campground, Cook Lake Recreation Area, Reuter Campground and Sundance Horse Campground.
Central Black Hills – Black Fox Campground, Castle Peak Campground, Custer Trail Campground, Dutchman Campground, Whitetail Campground, Ditch Creek Campground, Pactola Campground, Sherdian Lake South Shore Campground.
Southern Black Hills – Beaver Creek Campground, Bismarck Lake Campground, Comanche Park Campground, Grizzly Bear Campground, Horsethief Lake Campground, Oreville Campground and Redbank spring Campground.
Visit the Black Hills National Forest website for more information about the Campgrounds
Guidebooks
useful books for planning and enjoying your trips
Insiders' Guide to South Dakota's Black Hills & Badlands
— Very useful, not only discusses hiking and camping, but covers shopping, restaurants, annual events and more.  This book covers everything you need to know about visiting the area.
Best Easy Day Hikes Black Hills Country
— Great for hikers.  This book has easy to follow maps and the trail descriptions are very good.
Moon Mount Rushmore & the Black Hills
— Another very good all encompassing guide.  Not just hiking in the area, but motels, musems and dinning.  I carry mine with me most of the time, and I live here.
Roadside Geology of South Dakota
— I'm not a huge geology fanatic, but this is an interesting book.  Driving around the Black Hills, you will encounter many different types of rocks and geological formations.  I like to carry this in the car and thumb through it when picnicking in the Black Hills.
Birds of the Dakotas Field Guide
— This book is small enough to fit in a small day-pack, and provide you something to page through when taking a break out in the forest.  It is organized by the color of the birds, and fun to try and find the birds you've seen while hiking.  Kids love this book.
Maps
Never travel in the Black Hills without a map
BHNF website has lots of free maps.  Many local business and tourist information areas have maps too.
I have an interactive Black Hills map.  It has most of the hikes and places I've posted about.
I always carry my Trails Illustrated Maps because they are easy to read and have most hiking trails marked.  There are three maps of the area: Black Hills – Northeast Map #751
,  Black Hills, South East Map # 238
and Badlands National Park