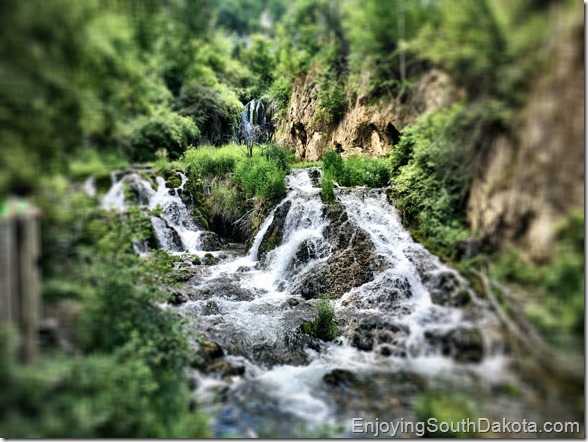 Spearfish Canyon is known for it's beauty. The scenic byway is certainly a popular drive. But the hiking trails are my favorite way to explore the canyon.
There are plenty of great options from easy to more challenging. Always bring plenty of water and snacks, most of the trails do not have fresh water available. Watch the weather. Weather conditions change quickly in the Black Hills, a beautiful fall day can easily turn into a blizzard. Watch for wildlife. Rattle snakes can be found in the area and mountain lions too. Know your ability level. Some of the trails are steep with loose gravel. And, it always a good idea to hike with a friend. Have a good map, I always have my copy Black Hills North by National Geographic, it is a detailed map and waterproof. Pack out what you pack in, I usually bring an extra bag along and end up picking up trash I may encounter on the trail.
I have listed the trails roughly in the order you would find them if entering Spearfish Canyon from Spearfish. I'm assuming you'd be turning off Colorado Blvd onto Spearfish Canyon Scenic Byway.
About 2.7 miles into the canyon you'll find a small parking area. It does not look like much, but is the place your want to start to find Community Caves.  It is an area only about 1/3 of a mile from the road, however it is a steep hike. No fear, the hard work will be rewarded. The "caves" are a unique natural feature in the canyon. There is usually a small waterfall trickling and the view is amazing.
About six miles into the canyon you'll find Bridal Veil Falls. There is parking on one side of the road and a viewing platform on the other. The water flow varies greatly during the year, sometimes it is just a thin wispy waterfall and other times it can be flowing pretty good. In the winter you may even see some ice climbers scaling the frozen water.
Devil's Bathtub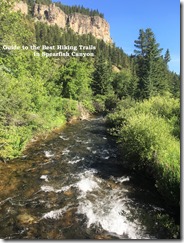 is an ever popular hike in Spearfish Canyon. Watch for the turn for Cleopatra Place (not quite 8 miles into the canyon) and there will be a small gravel parking lot. The well worn path should be easy to find.
Just over 9 miles into the canyon, you be in the area of 11th Hour Gulch and Kissing Rocks (aka the dice). Eleventh Hour is tricky to spot, so be sure to keep your eyes peeled.
A little over 11 miles you'll find Iron Creek. This trail is great for walking, biking or even snowshoeing. The creek does go all the way to Iron Creek Lake.
At about 13 miles you'll arrive in the Savoy area. Right behind the Latchstring Inn is a loop trail that goes by Spearfish Falls. A nice 3/4 mile loop nature trail.
If you are feeling energetic try the The 76 trail. This steep trail will take you to the canyon rim, for great views of the area. It is just the right of Spearfish Canyon Lodge as you turn onto Forest Service Road 222.
Behind Spearfish Canyon Lodge, you can find the Roughlock Falls Nature Trail. It is about one mile to the base of Roughlock Falls with minimal elevation change. I like to take my kids on this one and have even went snowshoeing on it in the winter.
If you continue on Forest Service Road 222, you'll find Roughlock Falls.  Further on you find The Rimrock Trail and The Rod and Gun Campground. Even further you'll find the Little Spearfish Trail and Timon Campground. And, if you wanted to go keep exploring you could checkout the Old Baldy Trail.
Now, back to the byway. Further South from Savoy Annie Creek is a interesting hike.
And at the end of the byway you will reach Cheyenne Crossing, home to a popular restaurant.  Not too much further from here you can also find Eagle Cliff Trails and Hanna Campground.
If you are going to explore the area, just be sure to be prepared. Also, remember that cellular phone service can be nonexistent in certain portions of the Black Hills National Forest. It is a good idea to visit a National Forrest Ranger Office to check on current trail and forest conditions.