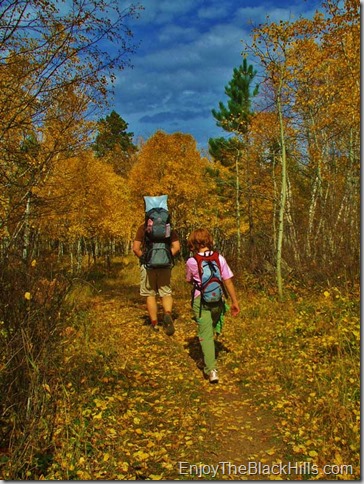 You really don't have to look too hard to find the best fall hikes in the Black Hills.  The area is gorgeous all year long, but there is something special about autumn.  The crisp air and amazing fall colors makes for a an ideal time to be outdoors.
Spearfish Canyon
The Spearfish Canyon Scenic Byway may just be one of the most popular fall drives in the the Black Hills.  And, the canyon is home to some of the best fall hiking you can find.  Any of the numerous waterfalls in Spearfish Canyon are perfect places to spend some quality time looking at fall foliage.  Roughlock Falls is probably the most well known, but the others are worth checking out too.
Devils Bathtub is a great hike any time of year, and fall is no exception.  Hiking along iron creek is a great place to soak in all the fall colors.  Or, if you are feeling energetic, hike the 76 trail and be rewarded with an amazing view from the top of the canyon.
Old Baldy is one of my favorite autumn hikes.  Just a short drive from Roughlock Falls, it is a long hike – be sure to have plenty of water, time and snacks.  Check out this video showing the drive.
Deadwood area
Mount Roosevelt is a great hike that the whole family can enjoy,  it is a nice loop that gives great vistas.  You can spot Bear Butte and the city of Spearfish along the trail.  An a clear day you can see all the way to North Dakota.
Just across the gulch, a hike to Seth and Martha Bullocks graves will treat you many fall colors.  Head up the hill to white rocks for a panoramic view of the area.
Custer State Park
Gorgeous fall colors can be found anywhere in the park.  I love to visit the lakes.  But, hands down the best fall hike is the Sunday Gulch Trail – you can thank me after checking it out.
Deerfield Lake
Just check out one of the picnic areas or hike around Deerfield lake.  I love this area because it is off the beaten path.  You often don't have to "share" the lake with many people.  The water is so clear and the reflection of the fall colors in the water is certainly memorable.  If you are up for some exploring, the old Flag Mountain Fire tower is in the area
Pretty Much anywhere
There are so many great fall hikes in the Black Hills you really don't have to look far.  Mount Rushmore or drive over to Devil's Tower – you eyes will be rewarded.
Be prepared, a beautiful fall day can turn into a blizzard pretty quickly in the Black Hills.  Many hiking locations do not have water or services – plan ahead.  I always carry my Black Hills National Forest [Map Pack Bundle]
with me – makes navigating the trail easy.
What is your favorite fall hike in the Black Hill's?