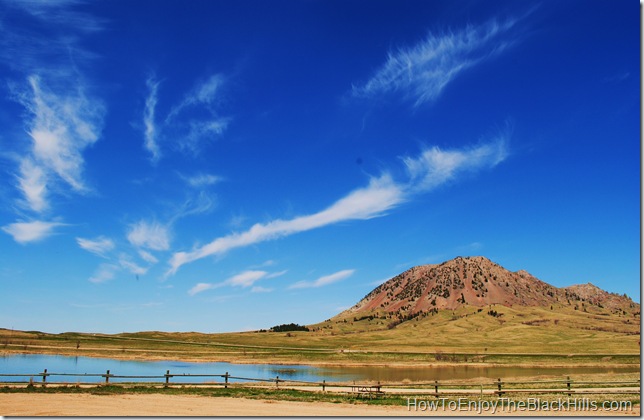 The beginning of the Centennial Trail is at the top of Bear Butte. Hiking Bear Butte has always been a favorite activity of mine.  Atop this mountain you'll have great views of the plains to the north and the Black Hills to the South.  This is a great way to begin or end your time on the Trail.
This trail was built in 1989 to mark the 100th anniversary of South Dakota's statehood.  It is an 111-mile trail that will take you through prairies and mountainous areas.  The trail begins at Bear Butte State Park, travels through the Fort Mead Recreation Area, Black Hills National Forest, Custer State Park and ends in Wind Cave National Park.
The area is lucky to have this great trail.  It is open to hiking, horseback riding and mountain biking.  However, portions of the trail do not allow horses or bikes.  Those portions of the trail are clearly marked.  The trail does cut through some isolated areas of the Black Hills, planning where you are going to get your water and food is very important.  Hiking the trail will probably take 7 to 10 days and mountain bikers and horseback riders can probably complete it in 3 to 4 days.
Remember, the area is also home to the 109-mile Mickelson Trail.  The Mickelson Trail begins in Deadwood and ends in Edgemont.   Built on old rail lines, you will find yourself traveling faster here than on the Centennial Trail.
Centennial Trail Trailheads
Elk Creek
Deer Creek
Rapid Creek
Tamarack Gulch
Brush Creek
Dakota Point
Spring Creek
Flume
Samelius
Big Pine
Willow Creek
Lakota Lake
Iron Creek
Badger Hole
French Creek Horse Camp
Highland Creek
Norbeck
More Information
Always carry a good map or two.  The Black Hills – Northeast, South Dakota Trails Illustrated Map #751
has the trail and trailheads marked from Bear Butte to the Samelius Trailhead.  Trails Illustrated Black Hills Se, Wind Cave National Park Trail Map
picks up with the Big Pine Trailhead all the way to the end in Wind Cave National Park.
Exploring the Black Hills and Badlands: A Guide for Hikers, Cross-Country Skiers, & Mountain Bikers
has forty pages devoted to the Centennial Trail.  This book is also available on kindle for those who don't want to carry the hard copy.  Here is a great guide the area, I recommend it to anyone who wants to hike in the Black Hills.
Useful Links
Bear Butte State Park – the South Dakota Game, Fish and Parks website
Fort Mead Recreation Area – The Bureau of Land Management website
Trail guide – The Centennial is trail 89 on the Black Hills National Forest website.
Custer State Park – the South Dakota Game, Fish and Parks website
Wind Cave National Park – the National Park Service website