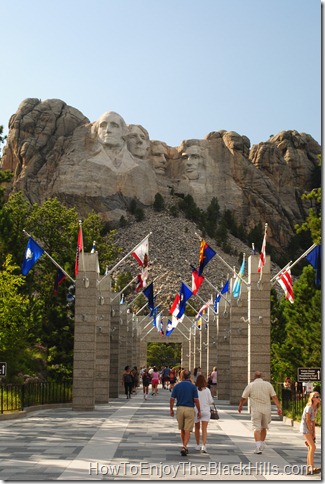 Mount Rushmore is a popular stop for Black Hills visitors. You can stroll down the avenue of flags and view the monument from the Grand View Terrace.
Taking it all in
There is an audio tour that can be rented as you enter the monument.  Tours can be 30 to 120 minutes and are available in English, German, Lakota and Spanish.
Lincoln Borglum Visitors Center
This is located just below the Grand View Terrace and contains many historical pieces related to the monument.  You may also view two films there: The Wild Side (about wildlife in the park) and Mount Rushmore: The Shrine (about the carving of the monument)
Presidential Trail
This a 1/2 mile loop trail that will get you a closer look at the monument.  Half of the trail is handicapped accessible and the other half has lots of stairs.  This is a great way to get to the Sculptor's Studio.
Sculptor's Studio
This historic building was Gutzon Borglum's on site studio.  It was build in 1939 and still contains models and tools used by the sculptor.
Junior Ranger at Mount Rushmore
This is a fantastic program to get the kids more involved.  The program is designed for children ages 3 and up.  There is a booklet the child completes about the monument and the wildlife in the area.  Once they complete the booklet they receive a Junior Ranger Badge.
Useful links