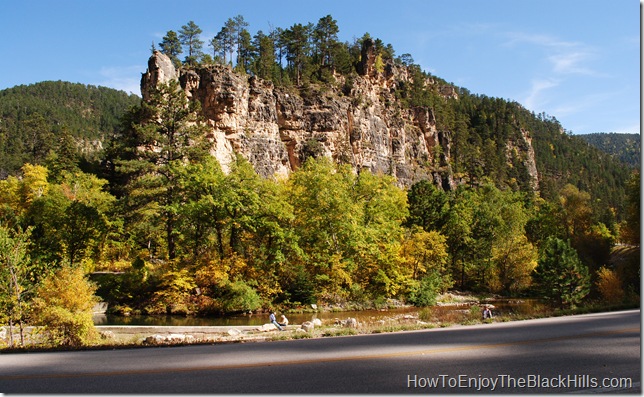 Driving Spearfish Canyon Scenic Byway may make you fall in love with the Black Hills forever.  The limestone walls have been eroding for eons, creating an absolutely amazing natural wonder.  The drive takes you along Spearfish Creek, past waterfalls, flora and fauna and so much more.  All year long, this is a beautiful drive you won't soon forget.
Finding Spearfish Canyon is easy, convincing yourself to leave is the hard part.  From Lead/Deadwood, travel south on Highway 85.  Turn north onto Highway 14A at Cheyenne Crossing (it is well marked, watch for signs).  In Spearfish, there are also lots of signs marking the way.  The turn for the canyon is just off Colorado Blvd next to the golf course.
Much of Spearfish Canyon is public land, making hiking and exploring almost unlimited.  There are over 150 private homes and cabins, so be careful not to trespass. Pullouts along the byway are numerous.  Get out of the car and explore.  Many of the trails can get steep and have loose rock on them, know your own limitations and use common sense.
Waterfalls of Spearfish Canyon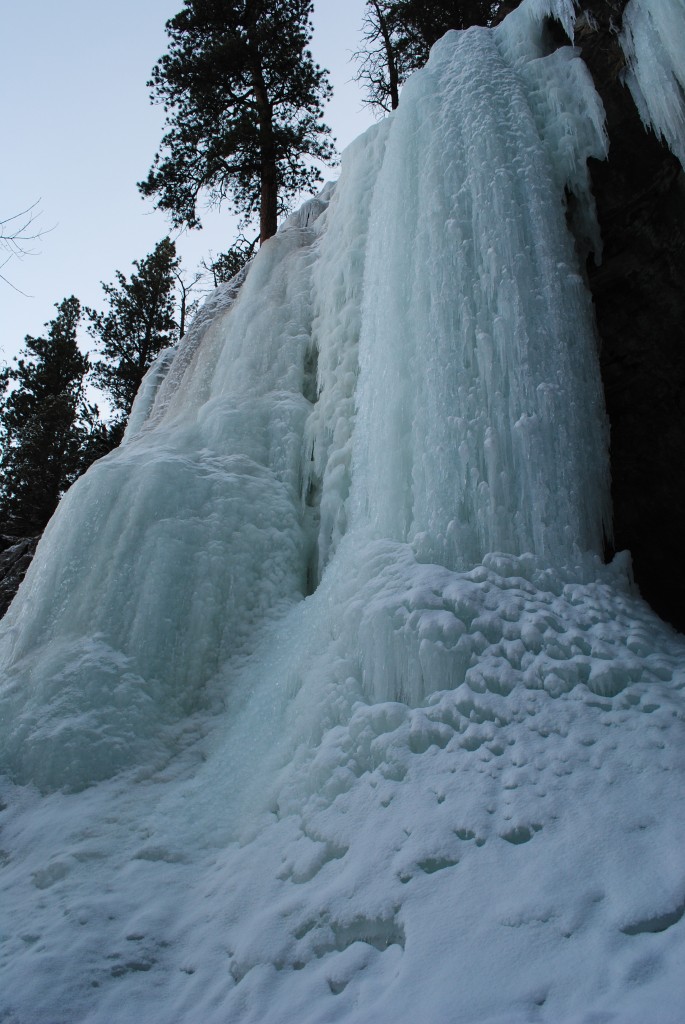 Community Caves -  this is not a large waterfall, generally just a trickle.  However, that trickle creates a very beautiful frozen waterfall every winter.  The trail is not marked and very steep.  If you are not confident in your hiking abilities please enjoy my pictures instead.
Bridal Veil Falls – 60 foot waterfall right along the road.  Large parking area.
Roughlock Falls – very accessible. Just off BHFS RD 222.  Board walks make this accessible to most people.
Little Spearfish Falls – just behind the Latch String Inn.  There is a short trail to the falls (see hiking below).  Watch my Little Spearfish Falls videos.
Since most of the canyon is public land, you can hike almost everywhere.  I will highlight some of the most popular hikes.  Bring along Black Hills – Northeast Map #751 it will make navigating the area much easier.
Devil's Bathtub – Turn off the highway at Cleopatra Place and park by the bridge.  Cross the bridge on foot and look for the joining of Spearfish Creek and Sunshine Creek.  The trail is not marked, but the path is well worn.  The "bathtub" is a small pool that you used to be able to slide down a natural rock slide into the pool, however a large boulder in now in the way.
Iron Creek – A 2 mile hike through a beautiful small canyon.  There is a large parking area about 11 miles into the canyon.  You'll see the turn just before you cross the bridge over Iron Creek.  This is also a great trail to snowshoe.
11th Hour Gulch – This is a really neat place to explore.  It is just off the main road near "Kissing Rocks" and it is a narrow gulch.  There are lots of boulders to climb on, climbing all the way to the canyon rim probably best for hikers with some climbing ability.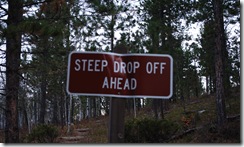 76 Trail – The is a short trail 3/4 mile trail.  However, you gain 1000 feet in elevation during the hike.  Perfect if you'd like to view the canyon from a different perspective.  The trail starts just across from the Spearfish Canyon Lodge.
Little Spearfish Falls Trail – short hike that I've enjoyed all year long.  Just behind the Latch String Inn at Savoy.
Roughlock Trail – This starts just behind Spearfish Canyon Lodge.  It is only one mile and delivers you right to the base of the falls.  This trail is also perfect for snowshoeing.
Old Baldy – this trail is not in the canyon, just 7 miles from Roughlock Falls.  This is a perfect trail for those looking for a longer hike that isn't too strenuous.
Useful Links
Visit Spearfish – lots of information about the Spearfish area.  Be sure to request a vacation Guide.
Roughlock Falls – more information about the area managed by the South Dakota Game, Fish and Parks.
Black Hills Videos – My YouTube channel.  Videos of the area, new ones added all the time.
Black Hills National Forest – More information about the canyon and the Black Hills