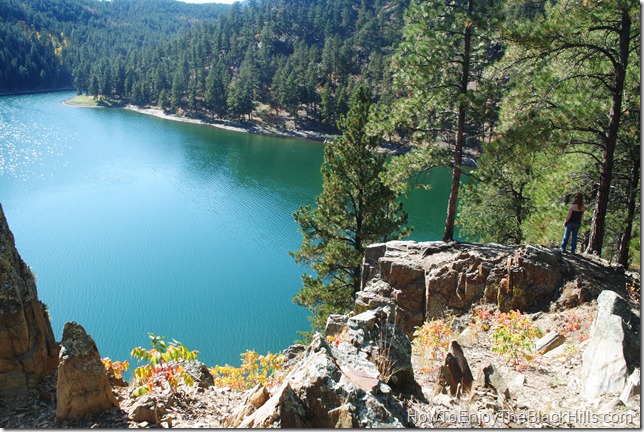 Western South Dakota and the Black Hills are practically swimming in lakes and reservoirs.  The area was not naturally blessed with these bodies of water, but they were man made – taking advantage of the topography of the land.
The variety is pretty amazing.  Lakes of all sized perfect for all types of outdoor recreation.  Most boast campgrounds and nearby hiking.  Large lakes allow for motor boats and small lakes are more suited for canoeing and kayaking.
Large Lakes and Reservoir
Pactola Reservoir – This 785 acres lake is located in the central Black Hills.   It is filled by Rapid Creek and can be seen from US Highway 385.
Deerfield Lake
– A 435 acres lake, complete with campgrounds, picnic areas and hiking trails.  This is a no-wake lake.
Sheridan Lake – 383 acres lake located about 7 miles for Hill City.  Popular camping and fishing area.
Belle Fourche Reservoir – 8,063 acre lake created by Orman Dam.  Primary purpose if for irrigation, causing fluctuating water levels
Angostura Reservoir – This huge 4,612 acre lake is a popular Walleye fishing lake.  Numerous boat ramps and lots of camping.  Near Hot Springs SD.
Lakes of Custer State Park
Legion Lake – A 9 acres lake near Badger Hole.
Sylvan Lake – A very popular 19 acre lake.  Near the trailheads for Harney Peak, Little Devils Tower and Sunday Gulch.
Bismark Lake – A 25 acres lake with a boat ramp.
Center Lake – A 25 acres lake with boat ramp, picnic area and campground.
Stockade Lake – Near the Gordon Stockade, this 130 acres lake is on the western edge of the park.
Smaller Bodies of water in and around the Black Hills
Bear Butte Lake – Located in Bear Butte State Park, a small 180 acre lake.
Dalton Lake
-Â Â  Located on Little Elk Creek with a campground.
Iron Creek Lake – A popular, small 24 acre lake near Spearfish.  No-wake lake with shore fishing and many cabins.
Horse Thief Lake – Near Mount Rushmore and a campground.
Fort Meade Reservoir – Located in the northern unit of the Fort Meade Recreation Area.
Strawberry Hill Dam – located at a roadside picnic area, stocked with Rainbow Trout.
Lakes in Northwestern South Dakota
Shadehill Reservoir – A 4,693 acres lake located in Perkins county about 12 from Lemmon SD.
Newell Lake – A 183 acres lake about 9 miles from Newell SD.
More Information
If you are going to be enjoying the lakes and reservoirs of the Black Hills and western South Dakota you need good maps like theBlack Hills National Forest Map Pack
(you can thank me after your trip.  And if you are doing any fishing I recommend a copy of  South Dakota Fishing Map Guide
.
Visit the South Dakota Game, Fish and Parks website to read fishing rules and regulations and buy a license.