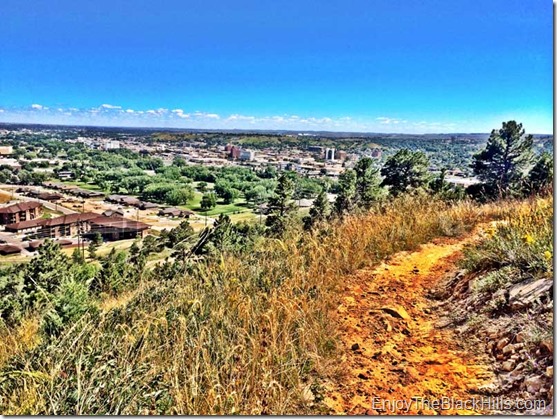 It is no secret that there are amazing hiking, trail running and mountain biking options near Rapid City.  The city is nestled up to the Black Hills.  The Black Hills National Forest is home to over one million acres of public land for just such recreation options.  However, you don't even have to leave the city limits to experience world class hiking and biking.
HLMP or Hanson-Larsen Memorial Park is right in the city.  This is no little park either.  It is 300 acres of rugged Black Hills terrain.  And, there is almost 20 miles of trails!  The trails are very well marked with names and degree of difficulty.
There are trails for every skill level.  The trails are not only beautiful themselves, but offer great views of the surrounding area.  You can see the sweeping prairie to the east and on the west side you can see the Black Hills and Harney peak.
Whenever I'm in Rapid City I try to set aside a little bit of time to hangout on the trails.  Any time of year, even in winter.  This is really a treasure for outdoor enthusiast.
Visit the HLMP website for more information and trail maps.
If you enjoy HLMP, I would encourage you to visit Lookout Mountain Park in Spearfish.  It is more than 700 acres just waiting for you to explore them.