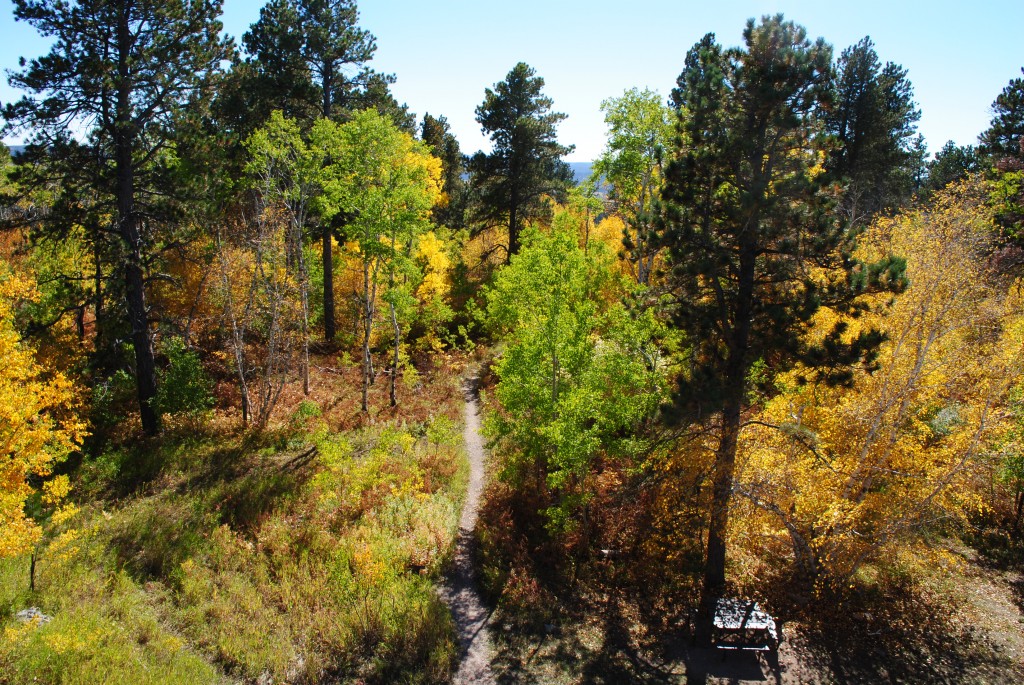 As I am writing this it is -3 degrees outside and that's got me thinking warmer thoughts.  I decided to look through some of  the photos I took this fall.  Mount Roosevelt was a great hike.  It was late September, but it was 80 degrees that day.  The views and fall colors were just amazing(see the video below).
Friendship tower (sometimes call Friendship monument) is a great little structure (32 feet tall) built as a memorial to Theodore Roosevelt.  There have been some recent improvements making the tower more accessible.  As you can see from the photos, the stairs make climbing the tower much easier.  I really love this castle like tower out in the woods.  I have great childhood memories hiking in Black Hills and playing on friendship tower.
The Tower was Seth Bullock's idea and the Society of the Black Hills Pioneers built it.  It was dedicated on July 4th, 1919.  Bullock is buried just across the gulch in Mount Moriah.  His grave site has a view of Mount Roosevelt, as he requested.
Mount Roosevelt picnic area, is one of 26 picnic areas in the Black Hills National Forest.  It has a few picnic tables and a vault toilet.  No fresh water is available, be sure to bring your own.  The short, scenic hike is worth the trip.
How do you get to Mount Roosevelt?
Mount Roosevelt is pretty simple to find.  Just head north out of Deadwood and hang a left on Mt Roosevelt road (the same turn for the Lodge at Deadwood).  Stay on Mt Roosevelt road until you get there (about 2 miles).
I don't believe the road is maintained in the winter, so save this hike for a nice day.
Are you more of a visual person?  watch my video below as I drive from the lower end of Deadwood's Main Street to Mount Roosevelt.
Want more information?  Visit the Black Hills National Forest web page for the Mount Roosevelt Picnic Area, here.

Deadwood on Dwellable
Get out and enjoy the hike