We recently visited the Alpine Hill in Hill City to celebrate my birthday.  As you can see in the photo above, they give you special treatment on your birthday.
We generally like to go to the Alpine Inn for Lunch.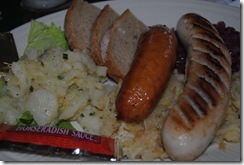 The German specialties are really a treat.  I love the German Plate and the Reuben sandwich maybe the best you'll ever taste.  The German potato salad and the sour kraut are side dishes you'll find yourself craving.
And of course, save room for dessert. The Alpine Inn has a huge selection of Homemade Desserts.  Three of my favorite desserts are Tiramisu, Grand Chocolate Tower and Turtle Island Waffle.
If you are heading to the Alpine Inn for the evening meal, be prepared for a simple menu.  You get to pick a 6 or 9 ounce bacon wrapped filet mignon. With that you get baked potato, Texas toast and a wedge of lettuce with dressing.
Even though the menu for the evening's main course is simple, you'll still get to pick from the full dessert menu.
If you are visiting the Black Hills, I recommend a trip to the Alpine Inn in Hill City.  I know many of our guests request a return trip to Hill City when they come back to the Black Hills.  For more information be sure to visit their website.
How do you get to the Alpine Inn?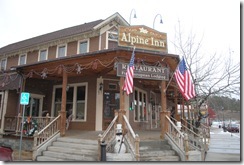 From Deadwood: Head south on US Hwy 385 for 43 miles.  At the junction with Hwy 16 continue on Hwy 385/16 to Hill City.  You'll see the Alpine Inn on Main street just after the Everything Prehistoric Gift Shop and right before you get to Granite Sports.
From Rapid City: Hill City is only 27 miles away.  Just head south on US Hwy 16 and follow the signs to Hill City.
What is your favorite thing about the Alpine Inn?