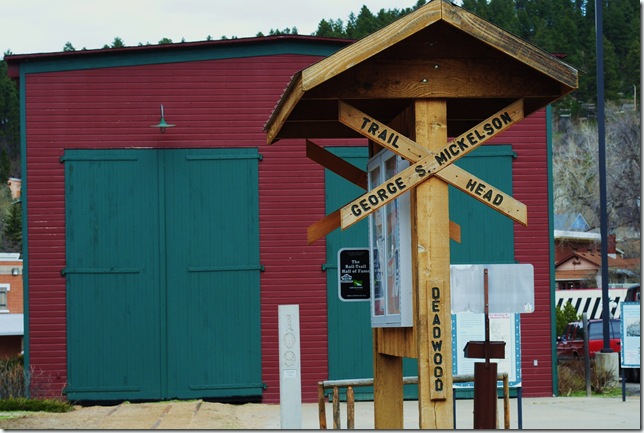 The Deadwood Trailhead of the Mickelson Trail is the north end of the trail, located at Mile Post 108.8.  You'll find it just off Sherman Street in Deadwood by the old CB&Q Engine House (red building in the photo above).
When leaving from Deadwood the trail begins to gain elevation.  The trail is mostly uphill all the way to Dumont.  The first trailhead you will come to will be the Kirk Trailhead, just 3.5 miles up the trail.
As you start to leave Deadwood you go past the Chubby Chipmunk, your last chance to load up on truffles for your journey.  You then cross Highway 385 and the trail runs parallel to Kirk road until reaching the trailhead.
Use of the trail does require a Mickelson Trail Pass for all users over age 12.  You can purchase the pass at the trailhead or online.  The exception to this would be when you are using the trail within city limits.
Have you ridden this portion of the trail?  Tell us about it……