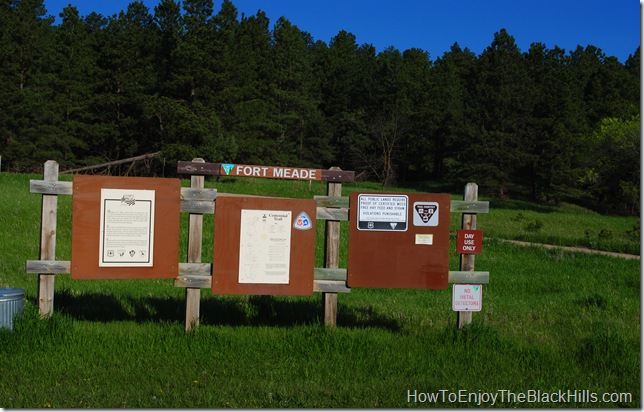 This is the closest access point for the Centennial Trail to Sturgis SD.  If you are heading East out of Sturgis, you'll want to turn right onto the Fort Mead National Back Country Byway, which is the road just before the Fort Meade VA Hospital.
This trailhead is right in the middle of the the Fort Meade Recreation Area, 6,700 acres of public land.  From this trailhead it is about 6 miles North to Bear Butte summit trail (located in Bear Butte State Park)  or 6 miles South to Alkali Creek Trailhead.   There is plenty of parking on both sides of the highway and this is a great point to start a day trip on the Centennial Trail.

View Enjoy the Black Hills in a larger map
The Centennial Trail is not the only 100-mile plus trail in the Black Hills National Forest, the Mickelson Trail is a 109-mile trail that starts in Deadwood and ends in Edgemont.  For the outdoor enthusiast the Black Hills offers almost endless options.