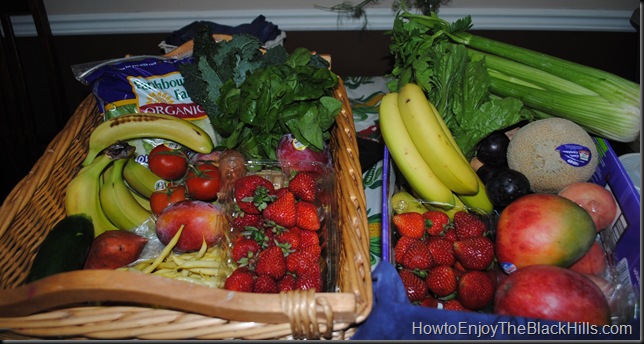 Are you looking for an easy way to get fresh produce each week in the Black Hills?  Then Bountiful Baskets Food Co-op may just be the thing for you.
What do you get in the baskets?
The baskets are a mix of approximately 1/2 fruit and 1/2 vegetables.  You choose between the conventional basket or the 100% certified organic basket.  The baskets vary each week and include produce that is in season.
The quality and price of the produce is amazing.  The bananas are purchased from small farmers in central Mexico – that saves the Co-op $4 to $7 a box.  It is exciting to see what you get to eat for the next week.
Other options include whole boxes of fruit, Granola and different types of bread
How does it work?
Every Monday the offerings for the weekend pickup are listed on the website.  Login, and place your order.  Keep in mind they often sell out quickly – so visit the website shortly after the offerings post if you wish to get a basket.
Where are the pickup locations in the Black Hills?
There are three Black Hills Bountiful Basket pick up places.  One is in Rapid City,  at the corner of Elk Vale Road and Mall Drive(more are being added all the time – check the website for current times and locations).
Pickup is Saturdays – check the website for pickup time.
The second pickup place is in Sturgis.  The location is the Mead County Extension Building, pickup is on Saturdays.
The third location is in Black Hawk at the Black Hawk Fire Hall on Peaceful Pines Road.
IMPORTANT – The pickup window is about 20 minutes.  Be sure you or a friend will be able to get the produce during that time
More information
To learn more and order visit the Bountiful Basket Food Co-op website and read over the new participant information a couple of times.
Learn new recipes
My favorite part of this program is getting foods I would not normally buy.  I love finding Bountiful Basket Recipes and experimenting with the fresh ingredients.