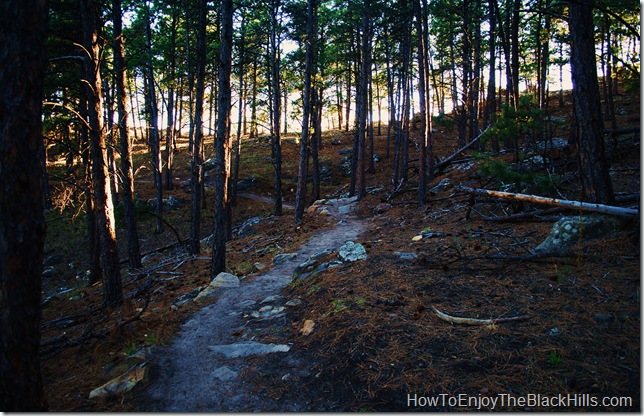 Hanson-Larsen Memorial Park (HLMP) aka "M Hill" or Cowboy Hill" is an amazing park right in the middle of Rapid City, South Dakota.  This 300 acre park was a gift from area rancher Eddie Larsen, when she died she wanted the park built in the honor of her parents Ed Larsen and Etta Hanson-Larsen.  That means no public money is used to support the park – that is truly a gift for the people of the Black Hills.
This gem of a park offers something for everyone with over 12 miles of trails.  Perfect for hikers, mountain bikers, runners and rock climbers.  There are gentle paths for families  and technical terrain for the hard core bikers.  Not only are the trails fun to hike, there are some great views of the area from M Hill.  Harney Peak, Bear Butte and the Badlands can be seen from various points on the trail.  Vegan Rock is a popular place for bouldering and there are many other rock climbing options throughout the park.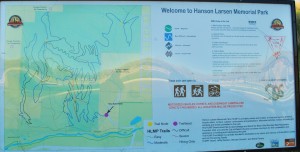 This is such a cool park.  I can wait to check out more trails.  I love the names like Cliffs of Dover, Dirk's Draw, Dark Forest and Rock Garden.
Where is HLMP?
The best place to access the trails is by parking at Founders Park Drive.  Turn off of West Omaha St on to 12th St by the Executive Golf Course.  On the other side of Rapid Creek you will find Founders Park Drive and a large parking lot.  All the trails are well marked and there is a map at the trailhead.

View Enjoy the Black Hills in a larger map
More Information
Visit the HLMP website.
Have you been to M Hill?  What is your favorite part?