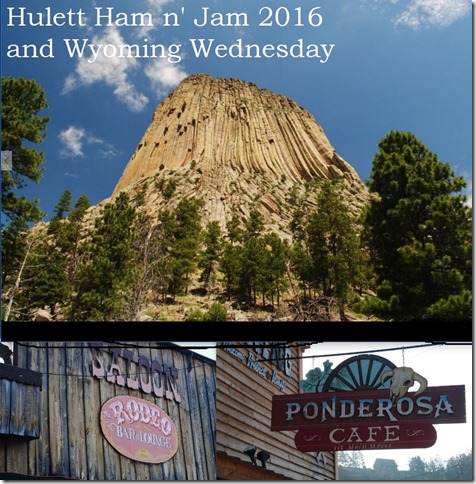 The Sturgis Rally 2016 is quickly approaching and as anyone who has been to the rally before knows….. Wednesday is know as Wyoming Wednesday and the most popular event is the Ham and Jam in Hulett – August 10th 2016.
Taking a ride to Devil's Tower is popular with many visitors to the Black Hill area.  But, during the rally you'll see a lot of motorcycles and on Wednesday of the rally you will see many, many motorcycles. There is also a nick name for the day, I'll let you find on your own  (it may have something to do with women's undergarments).

The Ham and Jam at the Rodeo Bar has been a long running tradition during the rally and 2016 is no exception.  The folks at Hulett Chamber of Commerce told me the Rodeo Bar is having a free pig roast and live music.  And, the Ponderosa Café and Bar (you know the place – good burgers) is planning drink specials and live music all day. Plus – Main Street is closed to thru traffic for bike parking.
So if you in the area take a ride through the Bear Lodge portion of the Black Hill National Forest.  And, have a lot of fun in Hulett.
While you are in Wyoming you might as well visit Sundance too.  They have plenty planed as well.  At 4pm burnouts start, there are plenty of festivities planned for the whole day.
Hey if you are at the rally have you seen all the Sturgis Rally Concerts? Even Weird Al is coming.  Willie Nelson, Kid Rock, Elle King and more.