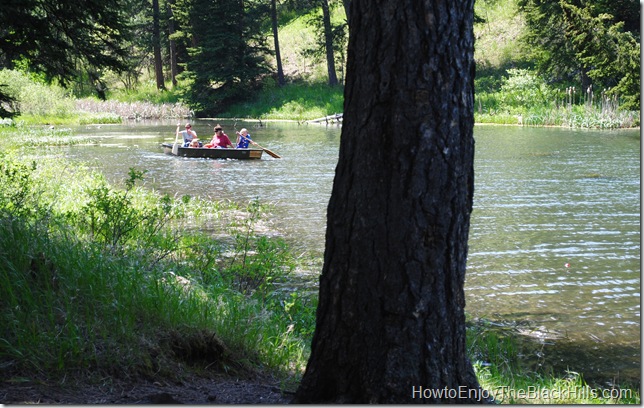 This little Black Hills Lake was built in 1930 by the Civilian Conservation Corps.  They also built the campground and the nearby  Ski Slide and Jump.  The now overgrown ski area, was the first in the area.  The day-use fee for the area is $4 per vehicle.  This tiny lake in the Black Hills National Forest is a great place to paddle around in a little boat or go fishing.  There are a couple of fishing docks on the campground side of the lake.
Dalton Lake Campground
This is a small 10 site campground (plus one more for the host).  Reservations are not accepted, so it is first-come, first-served.  The campground lies on one side of the lake and all sites have a fire ring.  Camping fees are $17 per night.  There is a vault toilet and fresh water is available.
Dalton Trailhead
Dalton is 6.1 miles north of the Boxelder Trailhead and 12.8 miles south of the Elk Creek Trailhead.  The portion of the Centennial Trail north of here is pretty isolated.  It is a great area to hike, mountain bike or horseback ride and have the trail to yourself most of the time.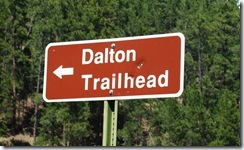 If you are going to using the Centennial Trail in the Northern Black Hills I would encourage you to carry a good map like
National Geographic Trails Illustrated Black Hills, South East, South Dakota
and a good guide book, such as
Exploring the Black Hills and Badlands: A Guide for Hikers, Cross-Country Skiers, & Mountain Bikers
How to get to Dalton Lake
Turn off FH road 26 (also known as Vanocker Road) onto road 224.  Travel through the beautiful Little Elk Meadow Canyon for about five miles.  There are brown and white forest service signs guiding the way.

View Enjoy the Black Hills in a larger map
Visit the Dalton Lake Campground page on the Black Hills National Forest website for more information.