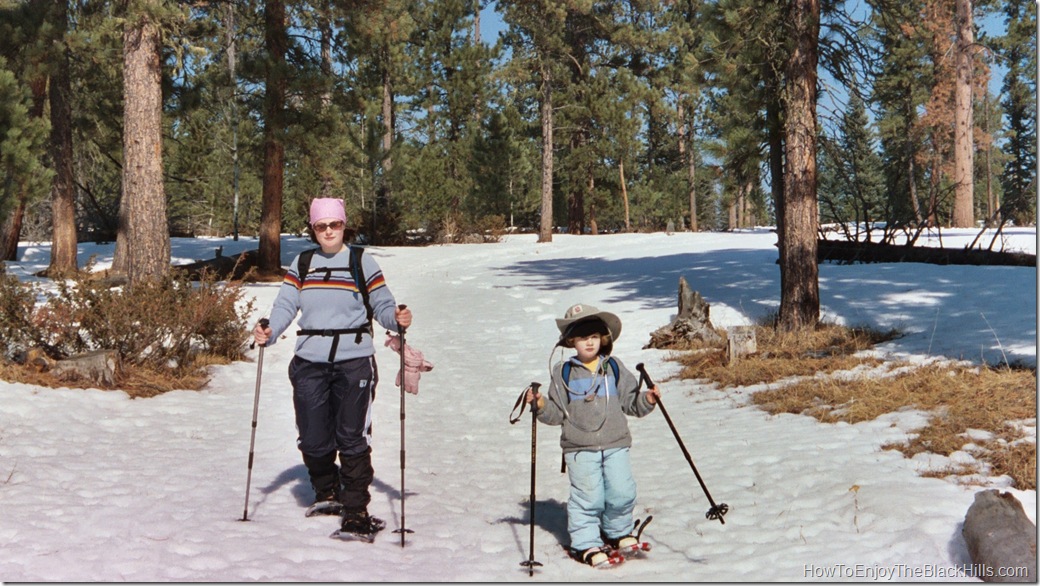 Endless snowshoeing opportunities, that explains the Northern Black Hills of South Dakota in the wintertime.  When the area averages about 150 inches of snow every winter, you know it has to be great.
It is pretty simple, go wherever there is snow.  There are many trails designated for snowshoeing, but you can snowshoe anywhere you find enough snow.  You'll be amazed how simple winter hiking is with snowshoes strapped to your feet.
Best Trails in the Northern Black Hills
Basics of Snowshoeing
Dress in layers -  The temperature can fluctuate in the Black Hills.  Be prepared.
Food and Water – Bring more than you think you'll need.  Drink lots of water, snowshoeing makes you sweat, replace those fluids.
Breaking Trail – If you are on a trail after a fresh snow, take turns breaking trail.  It is hard work.
Use poles -Â  Poles are most important for going up and down hills, they will help keep you upright.
Equipment
The South Dakota Game, Fish and Parks has a great program available for snowshoers.  They have equipment that you can use for free.  Contact their Lead office to reserve a pair for the afternoon or a weekend.  Contact information is on their website.
I love having my own snowshoes, I can go whenever I feel like it.  You can find some really good deals for snowshoes online
.  Make sure the bindings are adjustable, and it is nice to have adjustable poles.
Gaiters
are very important, but often forgotten.  These handy items keep snow out of your boots and will help keep the back of your legs dry.  Why are these important?  The longer you stay warm and dry, the longer you can stay on the trail.

Black Hills and Badlands on Dwellable
Black Hills Map 751
should be with you.  I would encourage you to always travel with a good map in the Black Hills.  None of the roads are straight and it is always nice to know where you are located.  This trails illustrated map is great because many of the trails are marked along with all the roads.  Visit the Black Hills National Forest website for free maps.
Where do you like to snowshoe in the Black Hills?