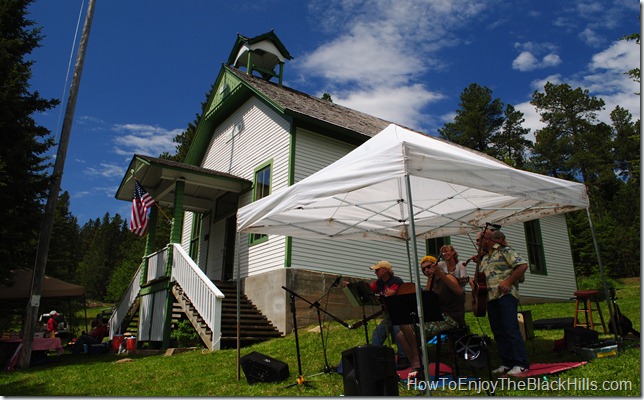 This was our first trip to the Annual Galena Historical Society Fundraiser and I'm sure we'll be back.  The funds help keep the 1882 school house in good repair.  The school house is also a place where local school children get to experience what school was like in the "old days."
2012 Ghost Town Tour is June 9th
Self-guided Tour
The trail is well marked and maps are provided.  Interpreters are at many of the historical sites and historic photos with descriptions are located at several points on the trail.  This provides a once a year opportunity to view some historical areas that are on private land, the Galena historical society is given permission to allow hikers in these areas for their fund raiser.
Much of the trail follows old rail beds or the gravel road, making this a pretty easy hike.  However, there are a few spots that are steep and rocky.  That made it a bit of a challenge with our double stroller, but the kids loved the hike.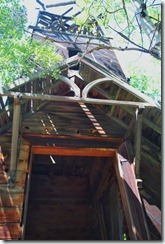 The hike begins at the 1882 School House, as you begin you'll pass the assay office.  Then the trail bends around a barn and heads up hill to the old rail bed.  At the junction of the old rail line you head left to Sammy Moll's placer digs.  After a drink of water, you head back down the old rail line 0.85 miles to the old Methodist Church Steeple (photo at the right).  After that you head back down to the gravel road and the former site of the Catholic Church.  Now you can head back to the school for food and music (like we did) or continue down the gravel road to the Vinegar Hill Cemetery.
This hike can be up to 5.25 miles or just a few miles depending on your interest and ambition.  Be sure to visit the Galena School House website to take advantage of the once a year chance to tour Galena.
How do you get to Galena SD?
From Deadwood, head south on Highway 385.  Turn East (left) at Wild Bills Campground.  Continue on Galena Road for about 3 miles.  Watch for signs and people to help you park.
Here is a short video I shot of the school and music
Have you been to the Ghost Town Tour?  Tell us about it