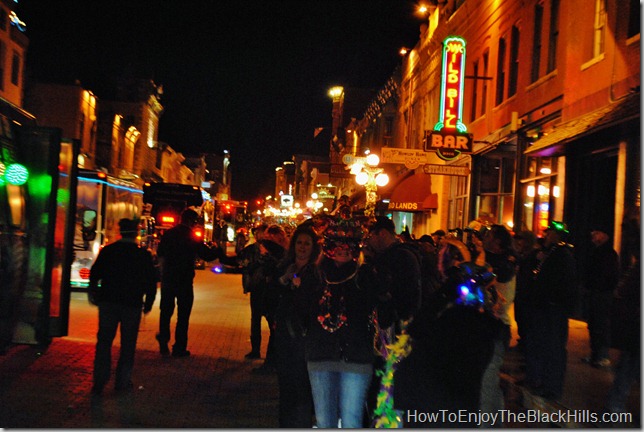 Mardi Gras is one of the great parties in Deadwood.  Thousands of people gather to celebrate.  There is plenty of music and great food… and beads, lots of beads.
Mardi Gras is just the start of great events in Deadwood.  Saint Patrick's Days is soon to follow with more parades and music.
Wild Bill Hickok Days is held in June each year.  Free main street concerts and fast draw completions are part of this huge celebration.  Plus, the Dock Dogs are a hit with all ages.
Days of 76 is almost a week of fun for all you rodeo fans.  The amazing parade is held twice and may just be the best parade in Deadwood all  year.
If you prefer a horse that takes gasoline, Sturgis Bike week spills over into to Deadwood.  This is a week devoted to motorcycles.  There are parking lots just for motorcycles and cycles are allowed to park on one side of Main Street.
Kool Deadwood Nights is just the thing for classic car buffs.  A nice long weekend of music and cars – what more could you ask for.
The Deadwood Jam is another great opportunity to enjoy great music.  This is held right next to the historic train depot.
Oktoberfest Deadwood Style.  Beer, Brats and wiener dog races – enough said.
Halloween in Deadwood aka Deadweird.  This is what happens when grownups go trick-or-treating.  Great costumes and tons of fun.
If you find yourself in the Northern Black Hills of South Dakota be sure to visit Deadwood.
And, for all you outdoor enthusiasts there is plenty to do as well.  Deadwood is surrounded by the over one million acres of public land that is the Black Hills National Forest and the every popular Spearfish Canyon is just a short car ride away.

Deadwood on Dwellable