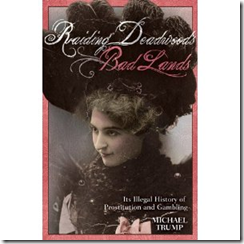 I've been a resident of Deadwood South Dakota for over 10 years now. I thought I knew a lot about Deadwood's History.  I was wrong.
Local attorney and author Michael Trump's book opened my eyes to the colorful past.  His fascinating book covering the history of prostitution and gambling during the town's existence in this little gulch in the Black Hills of South Dakota is simply fascinating.
The book starts in the beginning.  It only seems fitting that the existence of the town was illegal from the start.  The 1868 Treaty of Fort Laramie had deeded the land to the Lakota.  However, when gold was found in the area, there was no keeping the treasure hunters out.
I found it interesting Wild Bill Hickok was in Deadwood less than a month before his death.  And, now his body is buried in Mount Moriah Cemetery.  Next to him is buried Calamity Jane, another interesting person.  I found the stories of her life sad and amazing, she did not live a dull life.  Her life was shortened, however, by her wild lifestyle.
Prohibition didn't slow Deadwood down.  They didn't miss a beat, spirits were smuggled in.  Plus, local production kept up with the needs of thirsty patrons.  I enjoyed reading about men who shipped in train cars of grapes to make wine, and the people who enjoyed the local made brews more than any commercial beers.
The rest of the book chronicles attempt after attempt by law enforcement to shutdown gaming and prostitution in Deadwood.  The final blow came in 1980, when the Feds shut down the remaining brothels.  And, just nine years later gaming was legal in Deadwood.
Pam's Purple Door was one of the final brothels in town and the only one I'd heard of before reading this book.  The Madam, Pam Holliday, was out spoken in the defense of Deadwood's prostitution.  She even appeared on the Phil Donahue Show.  It was Pam that had attracted the Feds to Deadwood in the first place, so although she was the biggest supporter, she was the reason the brothels closed.
Providing an outlet for vices seems to be woven into the fabric of Deadwood.  It is a small town that provides lot of fun.  If you only read one book about Deadwood's history, I recommend Michael Trump's Raiding Deadwood's Bad Lands
.  Once you start reading it you won't be able to put it down.