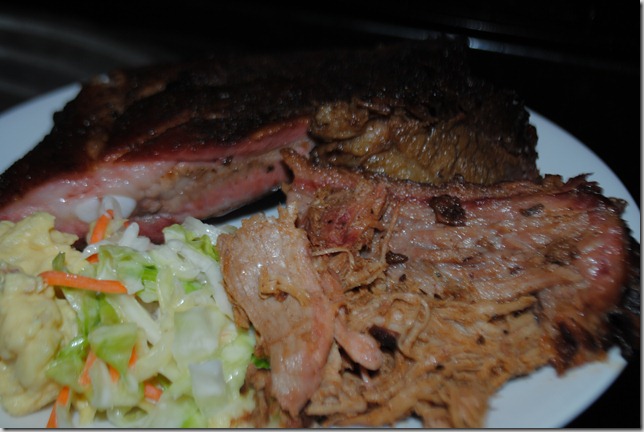 When I stopped for some coffee this morning at the Pumphouse in Deadwood, I knew something good was cooking.  I smelled meat and hardwood smoke.
This afternoon, I couldn't decide what to try.  So I ordered the 3-meat plate, and can't decide which is my favorite. Yum!
Fanstastic BBQ: tender brisket, fall off the bone ribs and melt in your mouth pulled pork.  This is amazing barbeque.  Plus, they have homemade sides and sauces.  Cole slaw, potato salad and smoked baked beans finish out this great meal.
When can you try this BBQ?  May 26th 4pm to close, May 27th Noon to close, June 1st and 2nd 4pm to close,  then every other weekend.  Call the Pumphouse for details 571-1001.
The Pumphouse is just across the street from the Lawrence County Courthouse, the little white and green building.  If you are hungry and in Deadwood- you won't regret this meal.
I love finding great BBQ in the Black Hills.  Remember Jake's BBQ in Rapid City if your looking for some tender smoked meat.