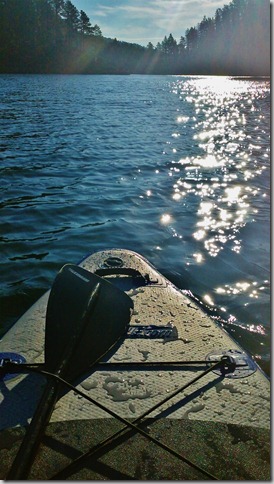 I've got one more Black Hills Lake checked off my list to Stand Up Paddleboard (SUP).  My first time on my board at Pactola Reservoir was near Jenny Gulch.  This is a great place to explore on a board.
In spots, you can see down into the crystal clear water 20 to 30 feet.  It almost feels like you're gliding across a high wire in those places.  It is definitely an intimate experience with the lake.
I like to go early in the morning, sometimes I even have the lakes to myself.  The wind tends to be light that time of day and makes paddling much easier.  But, anytime you have a chance to paddleboard I encourage you to try it.
The bodies of water in the Black Hills are just perfect for this sport.  You won't be catching any big waves, but on top of a board is a great way to explore all the nooks and crannies of the lake… It is sort of like hiking a lake!
I've now paddle boarded on many of the lakes in the region.  I've been out on Roubiax Lake, Deerfield Lake, Sheridan Lake and now Pactola Lake.  I even took my board to the other side of the state and got out on Lake Mitchell.
There is no shortage of Recreation in the area, get up and get out there and enjoy it!